If you are looking for plasma for a corona infected patient in Nagpur, then the plasma blood bank and plasma donor platform phone numbers given in this article may prove helpful.
India is most affected by the second wave of the Corona epidemic worldwide. Whereas in almost every state, the number of corona patients is increasing daily. Corona has the highest number of patients in Maharashtra, whose number has crossed 40 lakh. At the same time, about eight thousand people are getting infected daily in Nagpur city of the state. As such, the demand for plasma donors is increasing daily to treat severe corona patients in the city.
If a patient needs plasma in Nagpur, you can call the numbers given below –
Plasma Bank of Nagpur
Jeevan Jyoti Blood Center and Component
Contact Number: 0712-2231660
Dr. Hegdewar Blood Center
Contact Number: 0712-2528292
Lifeline Blood Bank Components and Office Center, Blood Bank (Lifeline Blood Bank Components & Apheresis Center, Blood Bank)
Contact Number: 9011981777
Contact Number: 0712-6636666
IGMC Mayo Hospital Central Avenue
Contact Number: 0712-2728622
Plasma facilities are available in all the above blood banks. But, as plasma demand is high, many times corona-infected patients may have to wait for plasma until they get a donor. Below we are sharing some website links with you. Where you can register to take plasma facilities and donate plasma.
'Overseas Volunteer for a Better India' – https://www.overseasvbi.org/covid19plasma/
In view of the increasing demand for plasma, people from many organizations have come forward to arrange a plasma donor. In which some people of Nagpur Rotary Club are continuously engaged in arranging plasma donor, mainly for the patients of Corona.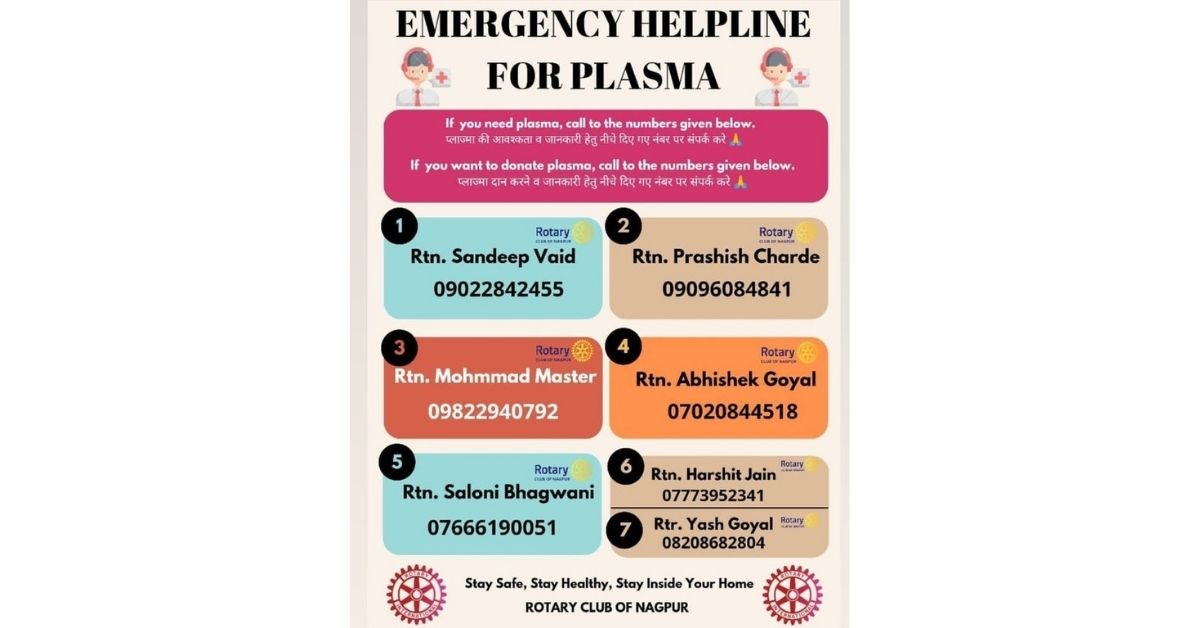 Club member Prashish Charde says that the club is actively arranging plasma donors for needy patients. These people have shared their emergency helpline numbers for arranging plasma donor. Prashish told that all his phone numbers are working. If there is no call on any number, then the patient and their family can call for the rest and get help.
He further added, "More than 100 calls are received on our numbers every day. We help people as far as possible. " Their emergency helpline numbers are as follows –
Parish Charde ( 09096084841)
Sandeep Vaid ( 09022842455)
Mohammed Master ( 09822940792)
Abhishek Goyal ( 07020844518)
Saloni Bhagwani ( 07666190051)
Harshit Jain ( 07773952341)
Yash Goyal ( 08208682804)
All the above numbers are verified by our team. Our appeal is that you should spread this information to as many needy people as possible. Also, those who have recovered from Karona, donate plasma for the infected patients to the respective hospitals.